RTX. It's On.
Get the ultimate Phantom Liberty experience with GeForce RTX 40 Series.
Get your PC ready for Phantom Liberty, a new spy-thriller adventure for Cyberpunk 2077, enhanced with full ray tracing for the most immersive graphics and DLSS 3.5 for unmatched performance. Return as cyber-enhanced mercenary V and embark on a high-stakes mission of espionage and intrigue to save the NUSA President. In the dangerous district of Dogtown, you must forge alliances within a web of shattered loyalties and sinister political machinations. Do you and your system have what it takes to survive?
Upgrade Your Performance
Play Phantom Liberty with Ray Tracing: Overdrive and DLSS 3.5 on GeForce RTX 40 Series

4K - Average FPS
DLSS Performance Mode
Pre-release Build
Cyberpunk 2077: Phantom Liberty, Max Settings & RT Overdrive mode
DLSS Super Resolution & Ray Reconstruction on RTX 20 Series, 30 Series, and 40 Series. Frame Generation on RTX 40 Series.
i9-12900k, 32GB RAM, Win 11x64. RTX 4060 Ti 8GB model, RTX 3080 12GB model, RTX 3060 12GB model. Final performance may vary.
---
Full Ray Tracing
Crank Ray Tracing up to Overdrive
Experience Phantom Liberty with full ray tracing, also known as path tracing, for the most immersive experience powered by GeForce RTX 40 Series. Full ray tracing realistically simulates all the properties of light from an unlimited number of emissive sources, delivering physically correct shadows, reflections, and global illumination on all objects.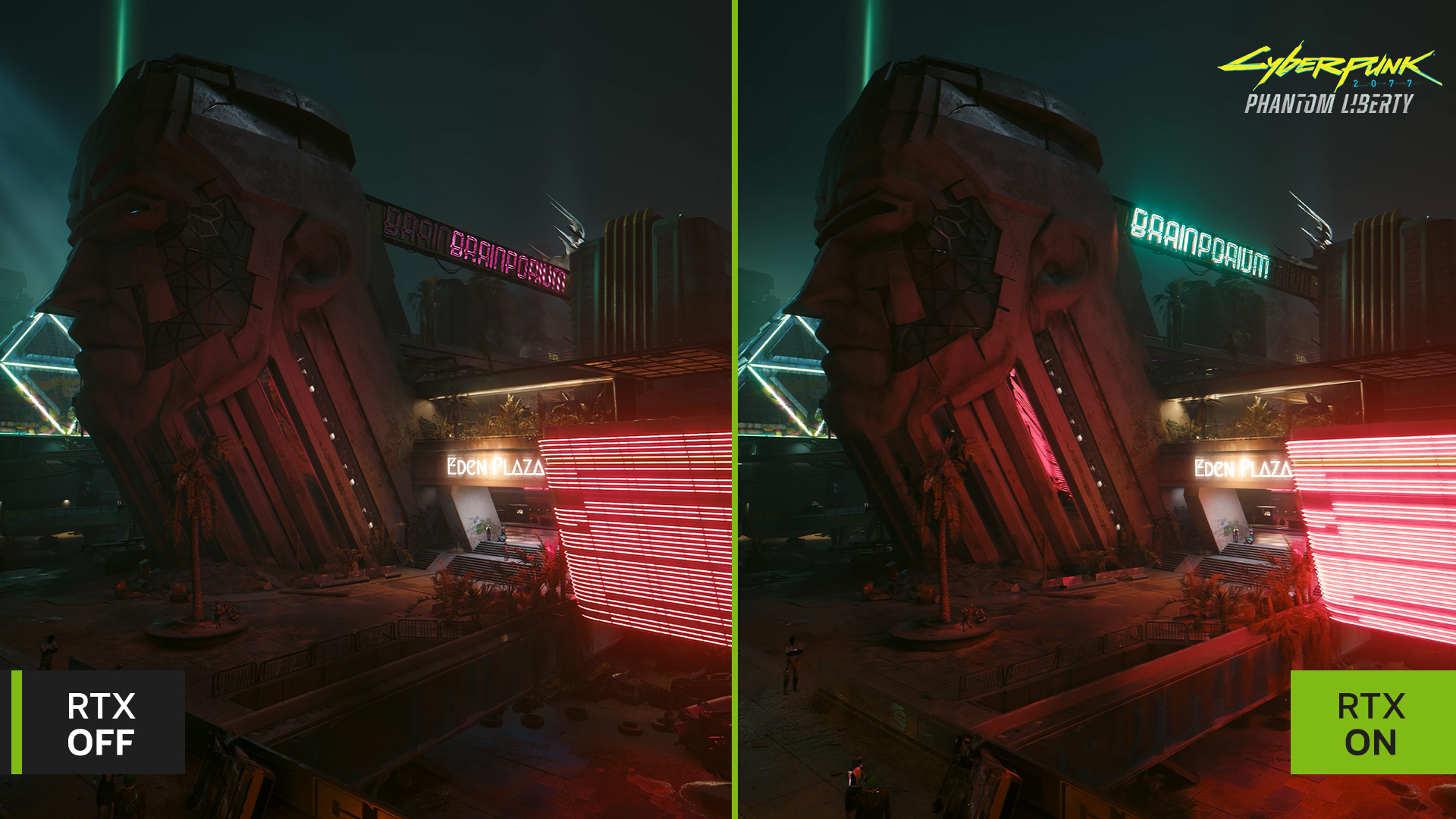 NVIDIA DLSS 3
Max FPS. Max Quality. Powered by AI.
DLSS is a revolutionary breakthrough in AI graphics that multiplies performance. Powered by the new fourth-gen Tensor Cores and Optical Flow Accelerator on GeForce RTX 40 Series GPUs, DLSS 3 uses AI to create additional frames and improve image quality.