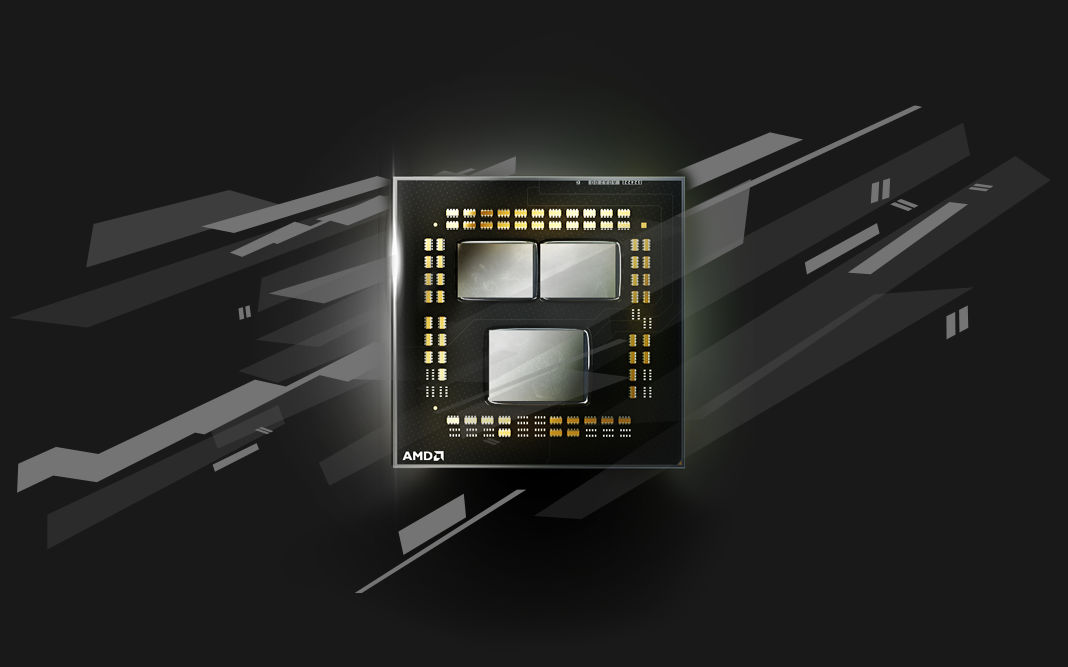 AMD RYZEN 5000 CPUS – FULLY LIQUID-COOLED FOR THE ULTIMATE GAMING PERFORMANCE
11/10/2020 3:08 PM
AMD's 3rd generation Zen architecture is now available at the heart of every EK Fluid Gaming Vanquish PC. The new Ryzen 5000 Series offers ground breaking performance not only in multi-core applications – but taking the crown for single core performance too; ensuring the best gaming performance for maximum FPS.
The new AMD Ryzen 5000 series CPU line-up consists of 4 CPUs, from the modest 6 core / 12 thread AMD Ryzen 5 3600X, to the flagship Ryzen 9 5950X boasting a 16 core / 32 threads set-up. Each CPU is specifically tailored for a range of users whether you be the casual gamer, the streamer or the hardware enthusiast there's a CPU that's right for you.
| | | | | | |
| --- | --- | --- | --- | --- | --- |
| CPU MODEL | CORE / THREAD | MAX BOOST | BASE CLOCK | UNLOCKED? | TDP |
| AMD Ryzen 9 5950X | 16C / 32T | 4.9GHz | 3.4GHz | ✓ | 105W |
| AMD Ryzen 9 5900X | 12C / 24T | 4.8GHz | 3.7GHz | ✓ | 105W |
| AMD Ryzen 7 3800X | 8C / 16T | 4.7GHz | 3.8GHz | ✓ | 105W |
| AMD Ryzen 5 5600X | 6C / 12T | 4.6GHz | 3.7Ghz | ✓ | 65W |
Performance increase compared to ZEN 2
AMD Ryzen 5000 delivers considerable performance gains over the previous ZEN 2 architecture, despite being on the same 7nm process it boasts an impressive 19% generation to generation increase to IPC performance and max core boosts of up to 4.9GHz straight out of the box. This substantial improvement on single-core performance makes it a serious contender for the best gaming CPU on the market, with most AAA optimized for maximum FPS based on single core performance, AMD is set to dominate the gaming scene with ground breaking performance.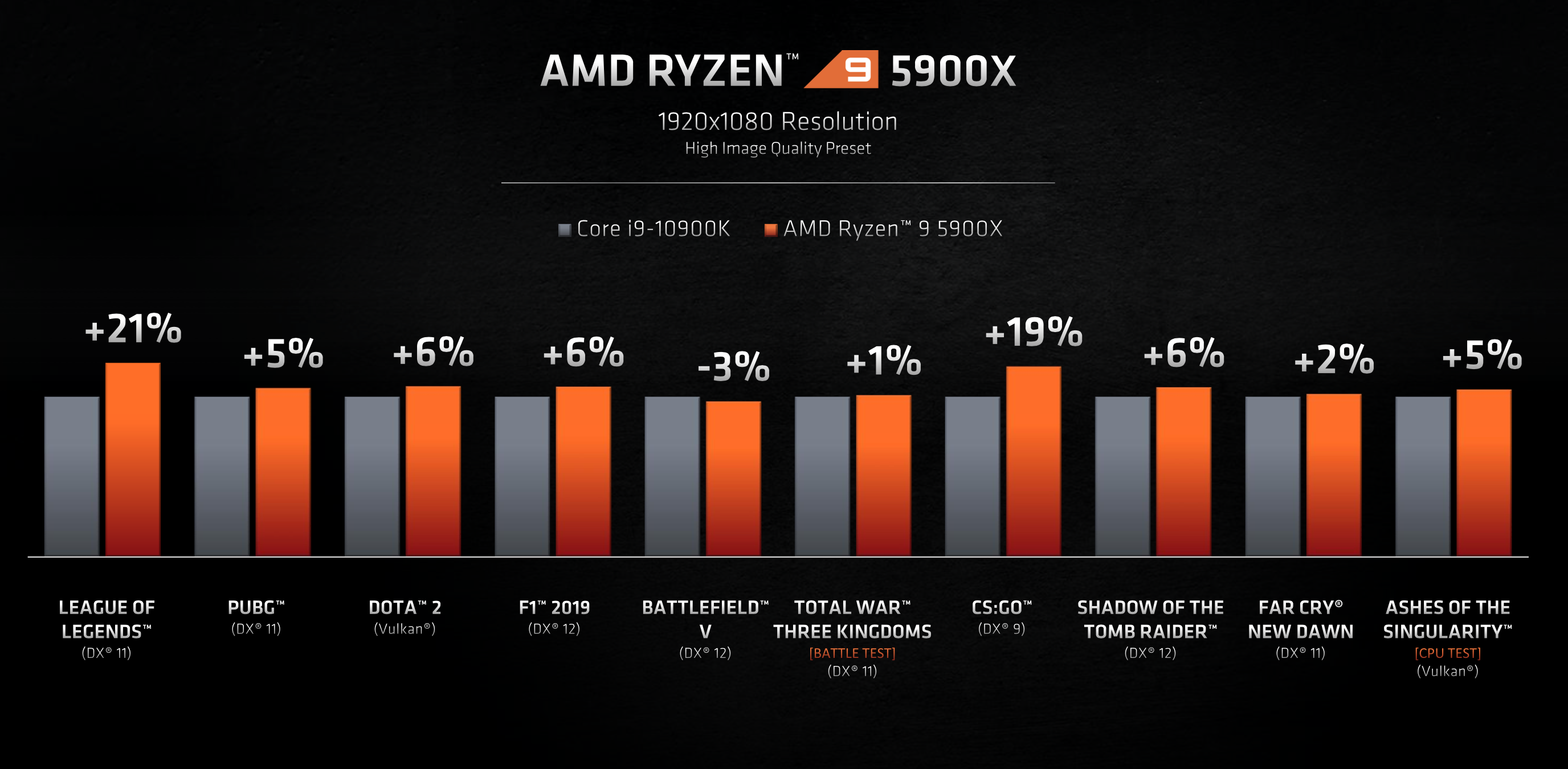 The important stuff - Gaming Performance!
When it comes to real world gaming performance, AMD Ryzen 5000 benchmarks show an impressive lead over the competition, with up to a 21% improvement on FPS compared to Intel's i9-10900K in 1080P titles.
The new ZEN 3 range excels over ZEN 2 counterparts utilizing it's 19% IPC improvement and increased clock speed of up to 4.9GHz - equating to a 5-50% improved FPS performance from 3900XT vs 5900X when compared on 1080P titles such as league of legends. This is a more modest improvement of around 5% on AAA titles such a Battlefield V where both CPU & GPU are more heavily relied upon to provide stunning 4K visuals with in game real time ray-tracing.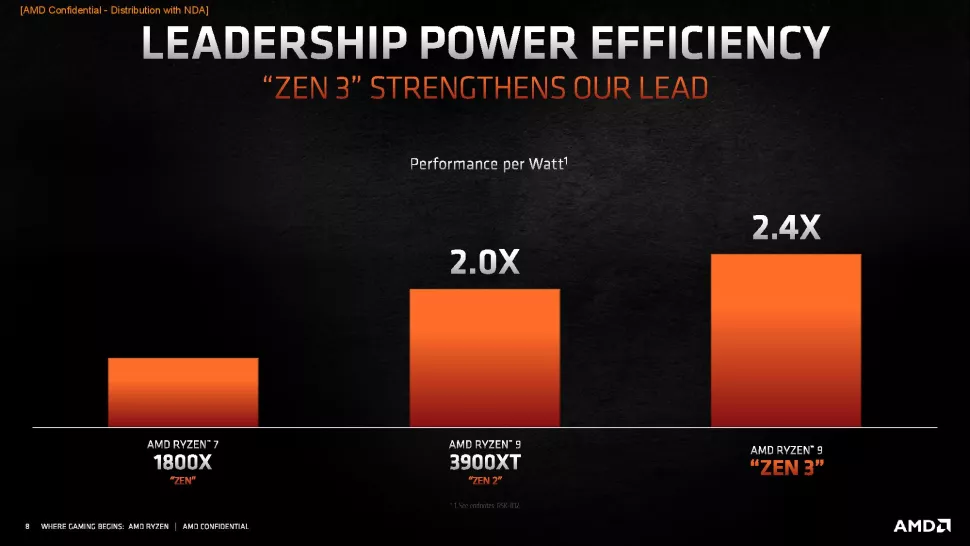 Improved Power Consumption and Efficiency with ZEN3
Not only does AMD Ryzen 5000 offer improved single-core and multi-thread performance, but it does ultra-efficiently too, utilizing 7nm architectural improvements for a 24% improvement on power efficiency compared to ZEN 2. When combined with premium EK liquid-cooling this means maximum performance, at ultra-low temperatures, with minimal noise output – ensuring you get the ultimate gaming experience.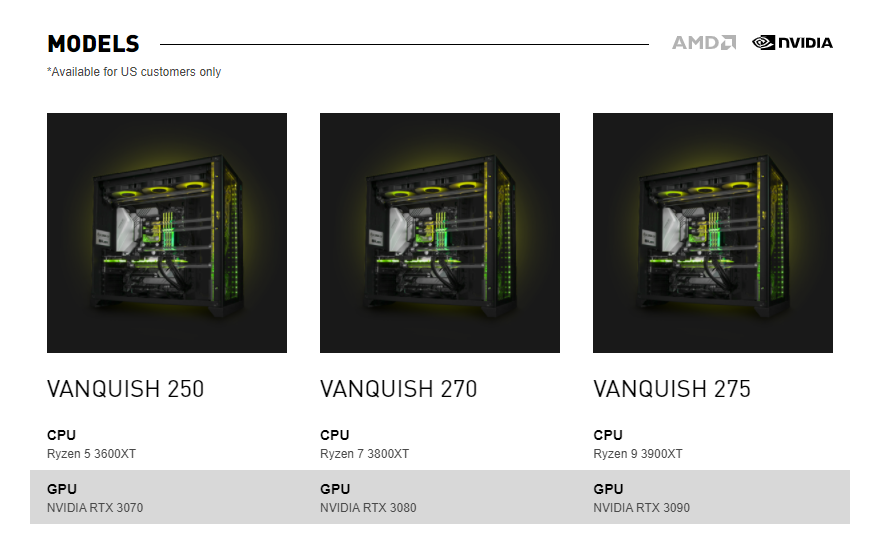 Choosing the CPU that's right for you.
When it comes to choosing the best CPU for your needs, we recommend you look to your current set-up, specifically your monitor and which games & applications you plan to run.
If you're a casual gamer just looking to enjoy an ultra-smooth 144Hz experience at both 1080P and 1440P our VANQUISH 250 packs a Ryzen 5 5600X & NVIDIA RTX 3070. Offering all the benefits of ZEN3 architecture alongside NVIDIA's latest RTX 3070 for stunning visuals and ray-tracing capabilities.
Should you be looking at running a streaming set-up that requires both solid 1440P / 4K gaming performance, alongside great multi-tasking for applications such as OBS screen recording, we'd recommend the VANQUISH 270. The Ryzen 7 3800X is a fantastic gaming CPU suitable for a variety of applications, offering all the key benefits of ZEN 3 but with powerful multi-application performance to boot. The RTX 3080 pairs perfectly with this CPU for an ultra-smooth 4K gaming experience with in-game ray-tracing for real world lighting effects.
Finally, this leaves hardware enthusiasts and professional content creators, those looking for a Gaming PC that excels at 4K gaming, with class-leading multi-tasking performance & a substantial core / threat count to make short work of professional applications such as Abode Suite or 3D rendering. This is where the VANQUISH 275 offers the ultimate solution for maximum gaming FPS and packing the new Ryzen 9 5900X with 12C / 24T making it ideal to double up as a professional workstation solution.
Want to find out more? You can find the full range of EK Fluid Gaming PCs powered by AMD Ryzen 5000 here.
AMD Ryzen 9 5950X EK Fluid Gaming PCs Available on Request
We will shortly be releasing an additional EKFG PC powered by the new Ryzen 9 5950X but if you can't wait – the 5950X will be available through our customization service which you can reach on 210-858-8054. (7:30 – 4:30PM CST).

-->