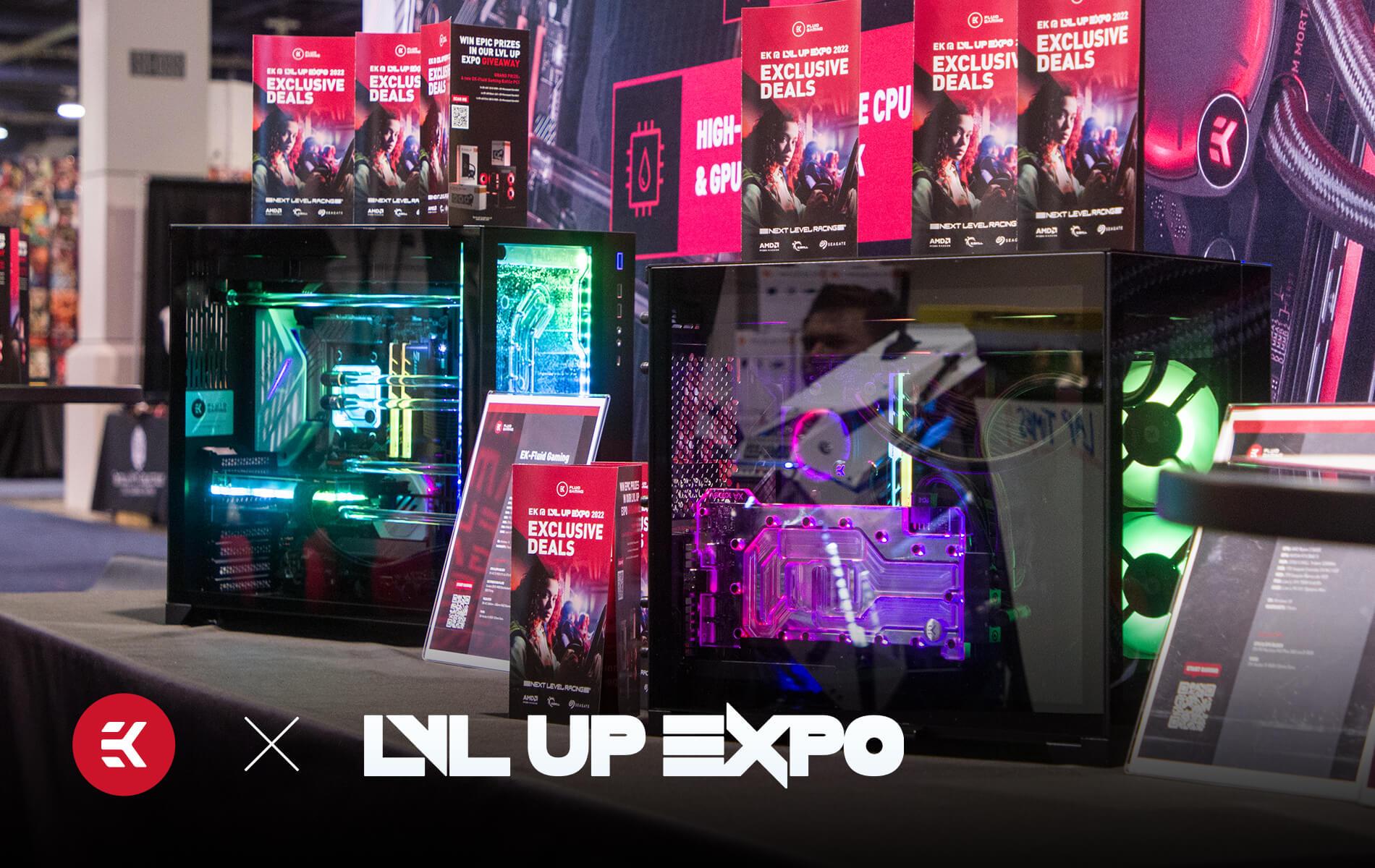 LVLUP EXPO 2022 - Media Round-Up
3/28/2022 8:48 PM
EK Fluid Gaming headed down to LVL UP EXPO 2022 for the coolest event on the calendar. With some seriously impressive guests, epic discounts and awesome liquid-cooled LAN parties, it definitely did not disappoint. Quite on the contrary!
We showcased the latest products and innovations to all attendees, including our portfolio of custom loop components, AIO (All-in-One) solutions, professional workstations, and - of course - EK's pre-built gaming PCs. Alongside all these elite products, we also debuted our brand-new range of icy, liquid-cooled gaming PCs - the compact yet powerful EK Fluid Gaming Battle PC.
Powered by an AIO cooler with a pre-installed custom D-RGB GPU water block, this small and mighty PC is perfect for serious gamers looking for that all-important competitive edge without compromising the aesthetics.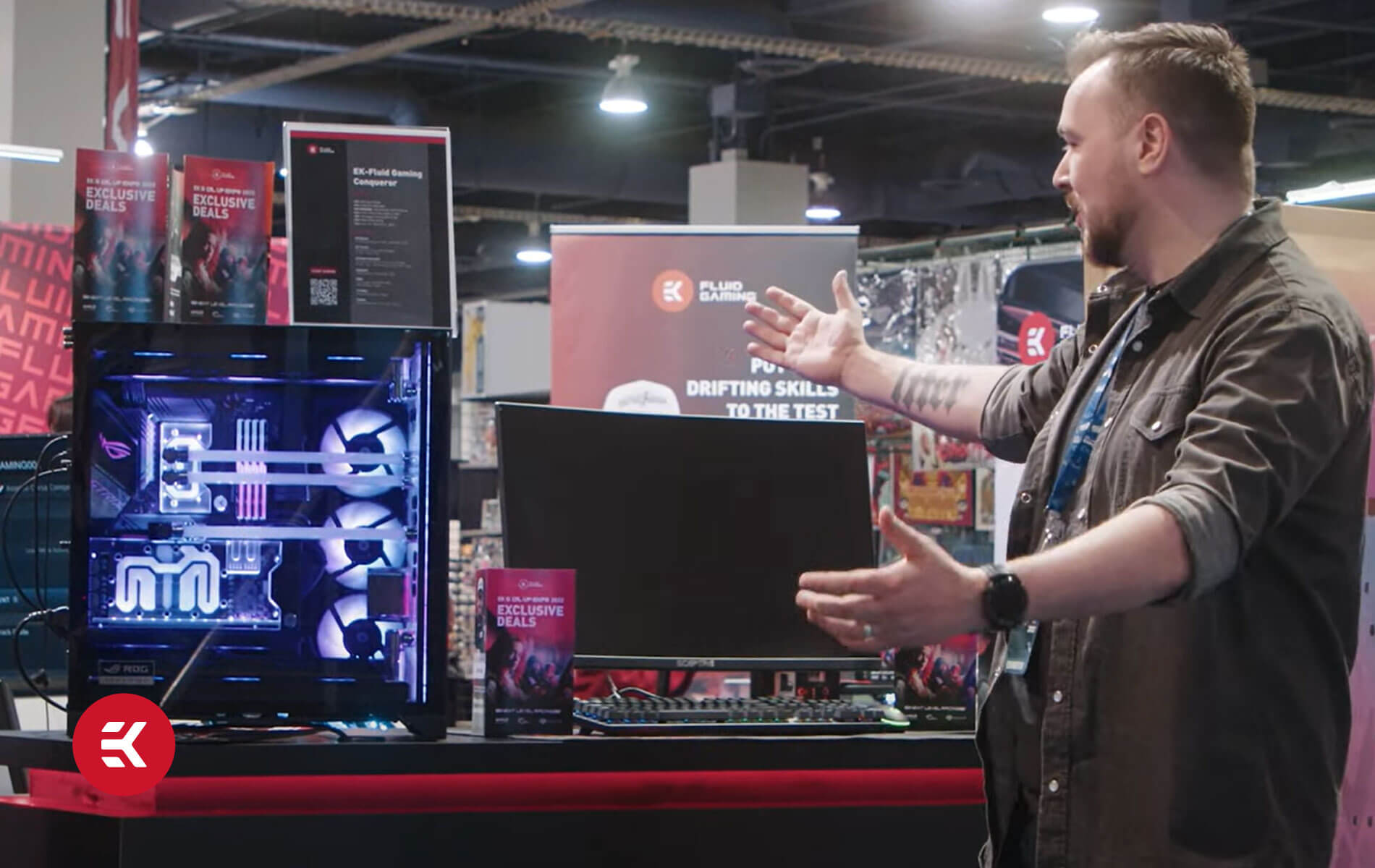 Bigger isn't always better - this build packs the roaring AMD Ryzen 5 5600X and NVIDIA RTX 3060, so you never have to compromise between style and power. And, as always, both Battle 150 and 170 come pre-fitted with a custom EK D-RGB water block for our signature ultra-low temperatures and fully customizable D-RGB lighting display. The job has been done by our precision engineers, so you know the build is top-tier quality.
It's the first EK Fluid Gaming PC to take advantage of our premium, exclusive EK AIO Plus 360mm D-RGB CPU & GPU liquid-cooling solution. If you're looking for a perfect PC for gaming, streaming and content creation, this size-efficient rig is your best bet.
We hosted an incredible giveaway at LVL UP EXPO 2022, where we gave away one of these insane custom liquid-cooled Battle PCs worth over $2,000! We also had five EK AIO 120 DRGB AIOs, four EK AIO Basic 240 and a 280 ELITE DRGB AIO up for grabs. We even gave all of our lucky winners EK mousepads to add finishing touches to their state-of-the-art new gaming rigs and sweeten the deal a bit more.
What Else Was at LVL UP Expo 2022?
Attendees at LVL UP EXPO 2022 could also see the exciting launch of our special edition PC that represents the next generation of liquid-cooled gaming - the all-new and exclusive Conqueror Gaming PC.

Conqueror is our first custom liquid-cooled Gaming PC powered by EK Quantum Matrix7. This beauty is packed with top-of-the-line hardware, including an AMD Ryzen 9 5950X and the elusive NVIDIA RTX 3090. If you're looking to take your gaming experiences to the next level, this is the PC you've been waiting for.

This beauty showcases the industry-leading EK-Quantum Reflection D-RGB Distribution plate with an integrated D5 pump. The new EK-Matrix7 design is the cherry on top of this gorgeous build, delivering that final ultra-clean polish you could've only dreamt about before now. Starting at only $341 per month with Affirm, the ultimate gaming experience is nearly yours for the taking.

Not only did Booth #105 have some of the best tech, discount codes and new products out there, but we had one more surprise in store for the visitors. Fans of racing sims, buckle up; you don't want to miss this. Namely, Faruk Kugay, the popular Formula Drift driver, joined us. He challenged attendees to beat his best times in one of the world's best racing simulation rigs by Next Level Racing. We even had a drift mod PC cooled by EK Matrix7 and created by the incredibly talented Envious Mods

In addition to presenting our latest innovations, we also provided over 100 gorgeous custom liquid-cooled EK Fluid Gaming PCs for the biggest official LAN party LVL UP has ever seen. Powered by the NVIDIA RTX 3070 TI Founders Edition, the esports competitions were ultra-hot. But the temperatures? Ultra-cool.

Missed out? Not to worry! Dan 'Hendo' Henderson documented the whole epic event over on EK Water Blocks' YouTube channel.

-->