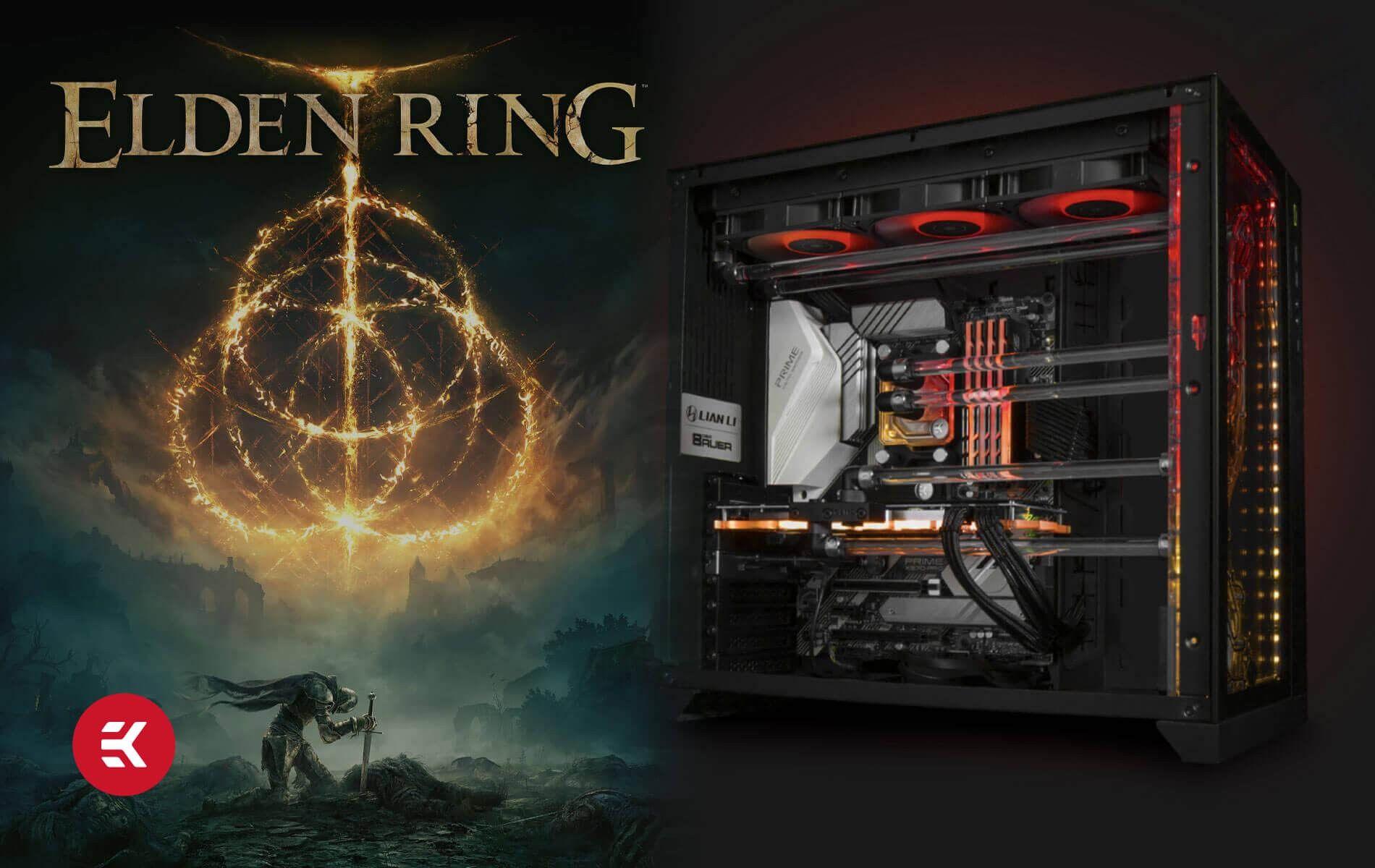 'Can I Play Elden Ring?': PC Requirements and Recommended Specs
3/2/2022 9:18 AM
Elden Ring is the brand-new grueling RPG adventure from FromSoftware and Game of Thrones author George R.R. Martin. Claimed to be a spiritual successor to the infamously difficult Dark Souls, it has quickly become the most current wishlisted game on Steam. At time of writing, over 278,000 fans have added the game to their wishlist, making Elden Ring the most hyped 'Souls' game of all time.
It's easy to see why, with its sprawling open-worlds, fearsome monsters and gorgeous character design. Not to forget, of course, the pot friend who took the internet by storm in the trailers). In short, Elden Ring looks like one of the most stunning games in a very long time.
Such an impressive world might leave some gamers shivering in their boots, asking themselves the question: 'can my PC run Elden Ring?'. We've got you covered! Here are the minimum and recommended system requirements to run Elden Ring on PC.
Elden Ring System Requirements on PC
Elden Ring is releasing on February 25th, 2022, for PC, PS5, PS4, Xbox Series X|S and Xbox One. This means that the game has been optimized for 'last-generation' consoles, meaning Elden Ring's system requirements on PC aren't as intensive as you might think.
All figures come courtesy of publisher Bandai Namco and developers FromSoftware.
The minimum specs to run Elden Ring on PC are as follows:
CPU - Intel Core i5-2500K / AMD FX-6300
RAM - 8 GB
OS - Windows 7 SP1
Video Card - Nvidia GeForce GTX 770 2GB / AMD Radeon R9 280
Pixel Shade - 5.0
Vertex Shader - 5.0
Free Disk Space - 150 GB
Dedicated Video RAM - 2048 MB
Elden Ring Recommended Requirements on PC
The minimum specs are certainly impressive for a game of this scale and scope, which means you definitely don't need to go for the highest-spec PC you can find. However, if your setup only meets the minimum requirements, you may still see performance issues. We definitely don't want to see your immersion in this dark, atmospheric world ruined by choppy framerates and subpar graphics.
Here are the recommended system requirements to run Elden Ring on PC:
CPU - Intel Core i7-4770K / AMD Ryzen 5 1500X
RAM - 12 GB
OS - Windows 10
Video Card - Nvidia GeForce GTX 1060 6GB / AMD Radeon RX 480 4GB
Pixel Shade - 5.1
Vertex Shader - 5.1
Free Disk Space - 150 GB
Dedicated Video RAM - 3072 MB
"Can My PC Play This Game?"
This isn't the question you should be asking yourself. Instead, ask yourself "do I deserve to play this cinematic masterpiece as the developers intended - in 60FPS, able to support 4K, HDR and ray tracing simultaneously?"
If the fantasy of these incredible graphics wasn't enough, we imagine that higher frame rate will be especially helpful when dealing with those tricky boss fights, with the performance boost giving players the edge in combat.
Looking to upgrade? Or simply feel like treating yourself? We recommend you look no further than the gorgeous EK-Fluid Gaming 270 lines!
Both the Conquest 270 and the Vanquish 270 will provide you with the best Elden Ring experience at an incredibly competitive price. These gorgeous rigs are filled to the brim with powerful components, perfect for anyone looking for that ultimate PC ging experience. The EK-Fluid 270 Conquest and EK-Fluid 270 Vanquish will let you spend hours exploring and discovering all the secrets that The Lands Between are hiding, all without breaking the bank..
Best of all, they're each equipped with a premium EK liquid-cooling solution to ensure you get the lowest temperatures, the best performance and minimal noise output.
The ultimate gaming experience is nearly yours to enjoy. Both these custom-built PCs also come complete with a full 3-year warranty, meaning you can play the latest AAA titles in ultra-smooth 1440p & 4K with total peace of mind.
Shop now!